Our Cattle
The beef from our 100% vegetarian diet Piedmontese and Limousin cattle is extremely tender and flavorful while being leaner and healthier than feedlot beef.
All of our Piedmontese (Pied-X) production cattle are born on our farm, are grass fed, and are corn finished. They are raised hormone-free, are not fed medicated minerals, and eat a 100% vegetarian diet of grass, hay, corn, and a protein supplement. We grow the grass, virtually all of the hay, and the corn too! Click here to read our protocols for raising our cattle.
Most of the beef sold in the U.S. is Angus, Hereford, or Charolais. These are the breeds that are most frequently purchased by the feedlots, resold to the large beef processors, and then resold to your local supermarket.
Some ranchers sell grass-fed Angus, Hereford, Charolais, or other common cattle directly to consumers. Although generally considered to be healthier to eat, beef from these grass-fed breeds is typically found to be tougher and less flavorful than the feedlot beef because of the lack of marbling.
The key to tender and flavorful grass-fed beef lies with the choice of breeds.  Our Pied-X beef comes from a cross of a Piedmontese bull and a cow that is typically Limousin, Angus, or a Lim/Angus mix.  
The Piedmontese breed developed naturally in the Piedmont area of Northern Italy, and has a unique genetic trait that results in beef with much lower fat and calories than traditional beef.  Crossing-breeding Piedmontese bulls with non-Piedmontese cows results in grass-fed beef that is remarkably more tender and tasty than beef from common grass-fed cattle while being much lower in fat and calories than beef from feedlot cattle.  Many people have concluded that Pied-X steaks are the most wonderful steaks to be found!    
Our products are only available at our Spring River Cattle Company store located on our farm in Oronogo, and at our satellite store located in Carthage, MO.   We do not presently sell products online.  Come visit us.  We would love to meet you!
The Oronogo store is located at 22035 Maverick Road.  That's Highway D at Maverick Road (near Quaker Mill), just 1 mile north of Christ's Church of Oronogo, and just 7 miles north of the Praying Hands Memorial in Webb City. 
The Carthage store is located at 912 W Central Avenue.
Piedmontese Beef is Leaner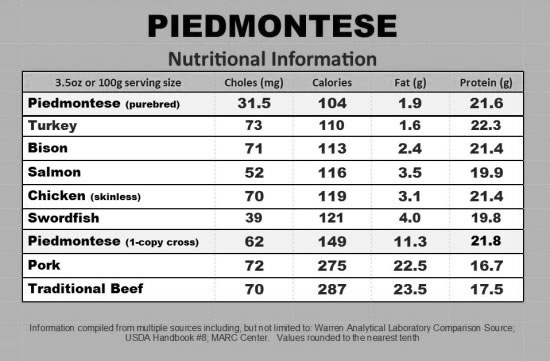 Spring River Cattle Company Tender, Grass-Fed Piedmontese Beef
Steaks

Filet Mignon
Rib Eye
Sirloin
Strip
T-Bone (special order)

Roasts
Ground Beef

80% Lean Ground Beef Patties
80% Lean Ground Beef Tubes
90% Lean Ground Beef Tubes

Briskets
Minute Steaks
Stew Meat
Short Ribs
Fresh Pork
Fresh Sausages
Scimeca's Hot Italian Sausage
Scimeca's Mild Italian Sausage
Volpi Salami
Genoa Salame
Hot Sopressata Salame
Dry Salsiccia Salame
Romano Salame
A Selection of BBQ Sauces, Rubs, Pasta Sauces and Other Good Stuff!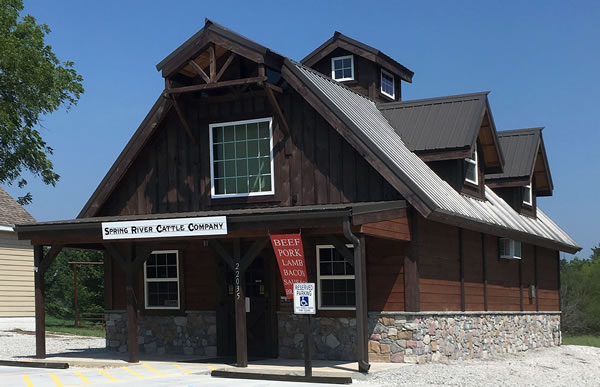 RETAIL STORE HOURS
Monday-Friday 3pm-7pm
Saturday 9am-7pm
Sunday closed
ADDRESS
22035 Maverick Road
Oronogo, MO 64855
DIRECTIONS
Highway D at Maverick; 1 mile north of Christ Church of Oronogo; 7 miles north of the Praying Hands Memorial
HOURS
 Monday - Saturday:  11 AM - 8 PM
Sunday:  Noon - 8 PM  
ADDRESS
912 W Central Avenue
Carthage, MO 64836
DIRECTIONS
0.6 Miles East of I-49 on Central Avenue