Farm to Table Meats
We are Spring River Cattle Company.  We sell high quality farm-to-table beef that we raise on our farm in Oronogo, Missouri, a short distance north of Joplin.
VISIT OUR STORES
Lean, Tender, and Flavorful Piedmontese Beef
High Quality
Our Piedmontese and Limousin beef is extremely tender and flavorful while being leaner and healthier, because we do not raise traditional cattle.
Grass Fed
Our cattle are grass fed on lush pastures.
Farm to Table
All of our production cattle (Piedmontese and Limousin cross breeds) our farm in Oronogo, Missouri and spend their entire lives on the farm.
100% Vegetarian Diet
Our cattle eat a 100% vegetarian diet of grass, hay, corn, and a protein supplement. We grow the grass, virtually all of the hay, and the corn.
All Natural
Our cattle are raised hormone-free and are not fed medicated minerals.
Pasture Raised
Our cattle are not confined in feed lots. They graze in lush treed pastures near the Spring River and its tributaries.
Piedmontese Beef is Leaner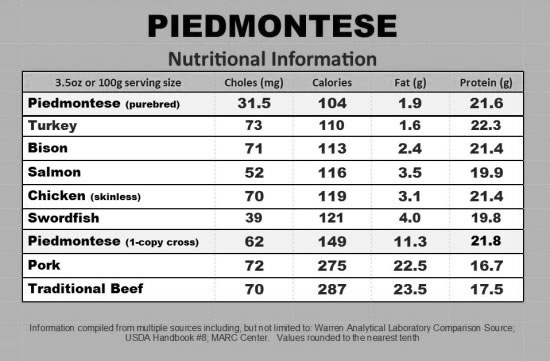 What Customers are Saying
"We loaded up Saturday! And tonight we feast!"
"What a beautiful cut of meat. Lean, Tender, Delicious! Angie was extremely helpful and knowledgeable. Cheeses, sauces, tongue, heart, sausage. The store is amazing!!"
Andrew S.
"Great job! We wish you great success neighbor!"
"We bought a sirloin at Spring River Cattle Company and it was the best I've had in years…we grilled it and made carne asada! Fantastic!"
Sheree W.
"Perfect Cut of Meat"
"Thank you for bringing a great selection of beef that is nutritious, delicious, and healthier for us. Your building is a great addition to the beauty of the river, and is displayed and organized making selecting that perfect cut of meat easy for us."
James C.
"I drive by here every day on the way home!"
"Love the beauty of the new building. Can't wait to have a steak dinner with my husband."
Betsy K.
News and Events
Sign up for the Spring River Cattle Company newsletter for specials, updates and new products!
Spring River Cattle Company Tender, Grass-Fed Piedmontese Beef
Steaks

Filet Mignon
Rib Eye
Sirloin
Strip
T-Bone (special order)

Roasts
Ground Beef

80% Lean Ground Beef Patties
80% Lean Ground Beef Tubes
90% Lean Ground Beef Tubes

Briskets
Minute Steaks
Stew Meat
Short Ribs
Fresh Pork
Fresh Sausages
Scimeca's Hot Italian Sausage
Scimeca's Mild Italian Sausage
Volpi Salami
Genoa Salame
Hot Sopressata Salame
Dry Salsiccia Salame
Romano Salame
A Selection of BBQ Sauces, Rubs, Pasta Sauces and Other Good Stuff!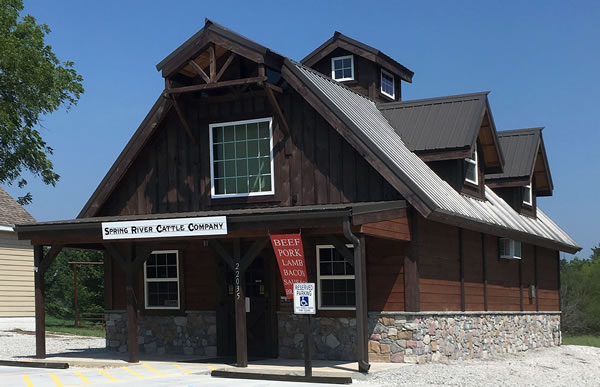 RETAIL STORE HOURS
Monday-Friday 3pm-7pm
Saturday 9am-7pm
Sunday closed
ADDRESS
22035 Maverick Road
Oronogo, MO 64855
DIRECTIONS
Highway D at Maverick; 1 mile north of Christ Church of Oronogo; 7 miles north of the Praying Hands Memorial
HOURS
 Monday - Saturday:  11 AM - 8 PM
Sunday:  Noon - 8 PM  
ADDRESS
912 W Central Avenue
Carthage, MO 64836
DIRECTIONS
0.6 Miles East of I-49 on Central Avenue